There are many, many kinds of bad movies out there. Comedies that aren't funny, Horror that doesn't scare, Misguided melodramas etc. The most painful for myself are the movies that could have been brilliant, if not for a few bad filmmaking decisions. One of the most egregious of these bad decisions are movies that strike the completely wrong tones with the stories they are trying to tell. The project had all the ingredients for success, a great premise, cast and crew, it all just didn't come together as a whole in the end. An audience member can only shake their heads at the end and think of what could've been.
Having said all that, most of the following movies are not outright awful or without merit, it's just imagine what they could've been with just a change of genre or tone. In some cases just sticking to one genre instead of meandering though many of them would've done the material wonders. Let's start our walk down 'What Could've Been Lane', shall we?
10). Last Action Hero
What We Got: An Action-Comedy, with A Coming-Of-Age Tale Jarringly Added In.
What It Should've Been: A Straight-up 'Hot Fuzz' Style Parody
Arnold Schwarzenegger teaming with 'Die Hard', 'Predator', and 'Hunt For Red October' director John Mctiernan to do a parody of the testosterone fueled action-movies of the 80′s and early 90′s, sounds like a match in movie heaven, right? Now, I could cite the meandering plot, endless pointless cameos or elongated running time as the main problems behind this misfire, but the biggest issue is the kid who acts as our audience stand-in as he gets transported into the ridiculously explosive world of Schwarzenegger Action movies. The film suffers from an acute case of what I like to call "90′s kid syndrome", because this lead is annoying as all-hell, pointing out all of the action movie tropes that the film is trying to satirize, which isn't funny when it's a 12-year-old highlighting them out one-by-one. The script tries to put a coming-of-age spin on the proceedings by having 'the kid' differentiate fantasy and reality, only padding the already convoluted parallel world story-line. This first entry is one of the easiest to fix, just remove the damn kid and make the film a straight parody of all the 'Lethal Weapon' and 'Die Hard' knock-offs that were prolific around this time.
This premise had the means to work, Arnie shouting inane ludicrous movie catch-phrases, all the action movie cliches firing off one after another and Movie Arnie coming face-to-face with Schwarzenegger in reality, hell we even have Arnie doing Shakespeare while playing Hamlet at one point. All the possibilities in the world this could've have been 'Hot Fuzz' a whole 14 years earlier, and instead we got a kid who cannot shut-up and who needs to learn some life lessons… great.
9). Ides of March
What We Got: A Derivative Sexed-up Political Melodrama
What It Should've Been: What It Was In The First Third; A Political Campaign Procedural, detailing the nature of election politics.
George Clooney stars and directs a politically minded thriller with Ryan Gosling, Paul Giamatti and Phillip Seymour Hoffman, sounds like a winner. Well, it was… for the first third or so of the running time when the audience was a fly-on-the wall to the ins-and-outs of American Electoral Politics and Campaigning. And then things start going south, literally and figuratively. This movie suffers doing a drastic and jarring shift in genre right when things were getting interesting in the chess game of a bi-partisen general election. What could've been a statement movie about the hypocritical and combative nature of getting elected to high office, instead turns into a sleazy portrayal of sex and politics; a story we have seen played out, fictionally and in reality, hundreds of times before. I especially love the Editing Room's Script of the movie, pointing out that Gosling's Campaign manager seemingly drops I.Q points as the film progresses. He starts off as a seemingly completely in-control knows-the-ropes campaign manager, and then little by little he is reduced to a dim-witted, face-palming, mistake prone imbecile.
What could've been a fictionalized version of the methodical documentary the 'War Room', which actually delved into the intricate and engaging 24/7 operations of an election cycle, turns just into your sex-scandal ridden political thriller of the week.
8). Public Enemies
What We Got: A standard Biopic of infamous depression-era bank-robber John Dillinger
What It Should've Been: A crime-thriller chronicling the beginnings of the FBI, establishing the thin-line between law-enforcement and criminality
I guess blame the ouvre of Michael Mann more than anything for this one, 'Public Enemies' would be a worthy effort for anyone else. For Mann, however; with the over-bearing shadow of his 1995 masterpiece 'Heat' well in mind when going into his movies, the Johnny Depp as John Dillinger bio-pic just doesn't measure up. It seemed like this was another spirited story choice for the director of 'Thief' 'Collateral' and 'Manhunter', a period piece on the depression-era gangsters and their mark on society at large in this time. Instead it is a surprisingly standard chronicling of the last months in the notorious gangster's life. I'm not sure if it was the original intent was to be something more, getting great actors like Christian Bale and Billy Crudup to play lawmen Melvin Purvis and J. Edgar Hoover (who is better than Leo DiCaprio in the Eastwood Bio-pic of the man) respectively in this old time gangster's tale.
The title I thought, going-in, would refer to the two sides involved, with Dillinger and his gang representing the official 'Public Enemies', and Melvin Purvis and Hoover being the real 'Public Enemies'. Because at the time, in the public's eyes, the government and its agents were the true 'Public Enemies' to them. John Dillinger was actually a sort of folk hero, taking money from the banks that scammed millions out of their hard-earned savings. This concept is referred to in the scene when he is being taken to jail, as the streets are lined with spectators cheering him on like a rock star. Unfortunately, this idea is never again touched or expanded upon, with an oddly cold and detached Depp flatly playing out Dillinger's final days. An alright Michael Mann film that could've been so much more if Dillinger wasn't the main focus.
7). Perfume: A Story of a Murderer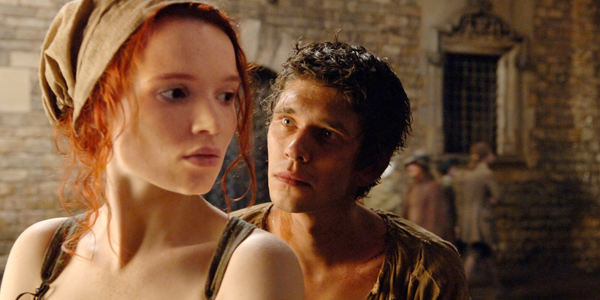 What We Got: An Artsy Crime Thriller? A Period Murder Melodrama? An Attempt At Smell-O-Vision? Repugnance In Movie-Form??
What It Should've Been: A Dark Humor Tale, Satirizing Psychotic Murderer Films
Wow, just wow where to begin? I guess I "admire" the filmmaker's for crafting one of the most unpleasant movie experiences I've ever had. This project is so misguided that no one thing about could change this to 'good' territory, but a change in the oppressively dark tone would be a start. Overlong, overwrought and thoroughly unpleasant. 'Run Lola Run's Tom Twyker helms a thoroughly misguided attempt at a murder thriller, while also attempting smell-o-vision. I'm not kidding, the camera zooms in on certain objects (mostly garbage, corpses, bad fish… the stuff you would want to experience smelling) and people to try and 'will' the audience into smelling what the murderer (Ben Whisaw) is smelling. It's all an effort to try and 'explain' his motivations. So as you can probably tell, the whole thing is an absolute mess, both on page and screen. The main problem is that the actors, with the exception of Dustin Hoffman, are not in on this gimmicky and jokey premise. Giving flat and uninteresting performances. Which leads me to think that Twyker wasn't in on the joke either, he really wanted us to take this crap seriously.
The only real way for this story to work would be by doing a Coen-Brothers-esque dark humor period piece critiquing the 'Psycho Killer' genre of movies. The premise already sounds like it was a Coen-Bro's script, the rest of the movie; however,  just had none of their wit or exceptional filmmaking techniques.
6). Runaway Jury
What We Got: A fast-paced courtroom thriller… with a heavy-handed message.
What It Should've Been: A Fast-Paced Courtroom Thriller. Period.
John Cusack, Rachel Weisz, Gene Hackman and Dustin Hoffman starring together in a gritty courtroom thriller? Great! Based off of a John Grisham story? Well, the star power sold me, at least. The movie moves easy and breezy through the ins and outs of high-profile courtroom politics, with Cusack and Weisz playing a juror and his girlfriend whose motivations for being in on a high-profile mass-shooting gun-rights trial run deep. Hackman and Hoffman are spectacular squaring off against each other as opposing sides in this trial of the century. So what is the problem? The story goes out of its way to be a Gun Control message movie. I'm going to avoid going into my own personal beliefs on this topic and not start a firestorm of Leftist and Rightist comment flame war on the subject, nonetheless there is a forum for this debate and shoe-horning it into an otherwise mainstream entraining hollywood court-room drama does it no service. What's more the 'debate' in this story is heavily weighted to one-side of the argument, the message to bluntly hammered into the audience leading to one of my worst pet-peeves in movies: The Lecture. As a slap in the face to the audience the movie has an oddly placed upbeat happy ending, where as in real life, the landscape of gun related violence seemingly has no good resolve in sight.
Now there is a way to present this, and any, controversial topic in a movie or entertainment, just when it is in service to the tone of the rest of the story. Outside of the heavy-handed message the rest of movie is a typical breezy Grisham thriller, one that could've been better than 'The Firm' in my opinion if not for trying to weakly fit in a serious current issue.
5). Accepted

What We Got:  A Decent Justin Long Comedy About The Rigors Of Being Accepted To College
What It Should've Been: A Drama Outlining The Sometimes Hypocritical Nature of College Acceptance Boards
'Accepted' is one of those, "Hey, yeah, funny enough" comedies. It's not bad and not outright laugh-riot hilarious, you certainly don't feel as though you've wasted your time. Justin Long is great again as his sarcastic self, a pre-fame Jonah Hill is a hilarious nerd and Lewis Black shouts some great one-liners. However, in my opinion, there was so much potential in making this a dramatic film about the failings and short-comings of College Acceptance Boards. Again, the movie was funny enough on its own, but there is a real timely drama to be made about the rigors of getting into the College of your choice and the College experience as a whole. Most students going in have no clue what they're in for, they'll go in blindly and burn out before they know it. Having something to show incoming or considering teenagers the true college experience would be invaluable. This could've been more of a statement on the status quo of higher education institutions, begging the question of what exactly are people paying a king's ransom for.
Indeed the current landscape of Universities and their influence on society is no laughing matter. They act as 'gatekeepers' to the job market, without a degree from an accredited school there is no hope for future prospects. Some could argue that they are abusing that responsibility by going for so-called "diversity" in their student body rather then actual academic merit. It is OK to laugh, but Justin Long's speech at the end to the review board (yes, they use that tired story element) about education being for everyone alone warrants some serious discussion about the validity of College Acceptance Boards.
4). Man of the Year
What We Got: A sub-standard Robin Williams Electoral Politics Satire, with a romantic interest and an election conspiracy plot added in.
What It Should've Been: A Robin Williams Electoral Politics Satire.
Robin Williams, Christopher Walken, Laura Linney, Jeff Goldblum, and even professional shouter Lewis Black star in a Barry Levinson satire about the American Election process,  sounds like a winner on paper… alright I think you know the drill by now. This is another one of those movies that could never decide which genre to be, a goofy comedy, a political satire, a conspiracy thriller, the movie seemingly had multiple-personality syndrome. Robin Williams playing a Jon Stewart/Stephen Colbert type of comedic pundit, decides that he doesn't want to just put a comical spin on the news, he wants to make the news. He decides to run as an independent in the coming general election. As with most of the failed Williams vehicles, the filmmakers just don't give him enough breathing room to work his unique comedic stylings. They add in a dull sub-plot about accidentally rigging the election with Laura Linney's character, which eventually leads to her becoming a forced romantic interest for Williams' character. Which takes precious time away from the promising premise of a political satirist getting elected to the highest office in the land, especially when he is played by the manic Williams. A stand-up special featuring Williams taking jabs at the state of current affairs in politics would be more welcomed and entertaining then what 'Man of the Year' turned out to be.
3). The Time Machine (2002)

What We Got: A sub-standard Sci-Fi Action piece
What It Should've Been: What the book it's adapting was: A Sci-Fi Allegory for turn-of-the-century class systems.
Who better than the great-grandson of the original author to do a film adaptation of a classic novel? Yes, Simon Wells had the H.G Wells linage to do a proper re-telling of his great-grandfather's Sci-Fi defining tale of a turn-of -the-century time traveler, but sadly with none of ideas his ancestor presented. Guy Pearce plays the pilot of the titular machine, a grieving widower who built the machine in order to prevent his wife's untimely demise. Unsuccessful in his attempts to save her, he travels far into the future to try and understand why time won't change for one man's desire. Lots of chase scenes, Jeremy Irons in ridiculous make-up, and an explosion filled climax ensue. How much of this happens in the novel? None. H.G Wells 'The Time Machine' was a story exaggerating the contemporary class systems instilled in British Society in order to analyze their impacts on people as a whole. Depicting the struggles of the elite vs. working classes as thinly veiled extrapolations of thousands of years of evolution, giving a grim endgame for the differences in classes at the beginning of the 20th century.
Smart engaging Sci-Fi is so rare these days and 'The Time Machine' (2002) is an unfortunate example of why that is, filmmakers trading in thought-provoking ideas and concepts for explosions (seriously, there is an explosive climax in an adaptation of 'The Time Machine'…), inane character motivations and bad make-up effects.
2). Live and Let Die
What We Got: A James Bond Outing… mixed with a Blaxploitation Drug Movie.
What It Should've Been: A Parody Mash-up of the two Genres
Someone pitched this idea and won out, "Let's have James Bond go to Harlem, and take down an unbelievably intricate urban heroin drug-ring… what could go wrong"? Well, seemingly everything. Roger Moore's first outing as the British super spy is just a disaster (foreshadowing the rest of his tenure as Bond, perhaps). Putting aside the pretty good post-Beatles Paul McCartney title song, this is a movie you can just tell from the premise would be nothing but a misguided mess of a film. The movie screams that it was made in the early 70′s, the drug plot, the muscle cars, the soundtrack, which all wouldn't that bad if this film wasn't dated on arrival. After all the outings with the pitch perfect Sean Connery, I guess the producers wanted to shake things up on the first movie with Moore in the role. Well, they succeeded in doing something… different. The movie is made even more uncomfortable in it's depiction of African-American culture. In one scene right at the beginning seemingly everyone in Harlem is in on the conspiracy to track and kill Bond.
Not that making this a full-on comedy would've saved the movie, (a staggering lack of Sean Connery is hard to cover for) but it would at least look like the filmmakers knew just what the hell they were doing if they tried to make this a parody mash-up of both spy thrillers and Blaxploitation movies that dominated the screens in the 70′s. Just the idea of the straight-laced English secret agent finding himself involved in a jive-talking drug ring is ridiculous in and of itself to warrant comedic gold (that the producers tried to make this a 'true' James Bond movie tells you something about their mind-sets). The franchise was primed for parody as is, and with Connery leaving this could've provided a great opportunity for a tongue-in-cheek comedy with the hammier Moore donning the Tuxedo. Granted it would've taken the series in a different direction… but one far better than what actually happened with 'Live And Let Die'.
1). Any Given Sunday
What We Got: An Examination Of Race Relations in American Pro-Sports, Pro-Sport Superstar egos, male bravados, excesses of fame, excesses of the sports world, influence of corporate greed, family legacy, Warrior/Athlete mentality, brutality of American Football, Pro-Football team dynamics, and finally a character study of an aging coach.
What It Should've Been: A Character Study of Al Pacino's aging Coach, Tony D'Amato
"…and on this edition of when directors go to crap". Oliver Stone's gritty with a great ensamble cast, but overly bloated dissection of American Football and its excesses, marked the beginning of the end for Stone as a legitimate engaging director. His usual director's tropes are all here too, a giant cast, schizophrenic scene cutting and editing, use of different camera filters, gritty depiction of an American institution, the whole works. However, this the one where it all fell apart for him as a director, introducing so many interesting and engaging elements and then follows through with almost none of them. The best element in play here was Al Pacino as the grisled old coach trying to win one last championship, against all odds of course. Pacino delivers in every one his scenes, especially in the now famous "Every Inch" speech. The main problem is that the director tries to make this movie about… everything. There are so many characters to keep track of; there is Jamie Foxx as the arrogant and shallow back-up QB, Cameron Diaz as the glory-starved team owner, LL Cool J as the overbearing star running back, Denis Quaid as the injured veteran QB, Aaron Eckhart as the offensive coordinator, Matthew Modine as the concerned team physician, and real-life Hall of Famers Lawrence Taylor and Jim Brown even have roles as aging football veterans.
It all adds up to wasting one of the very best later-career Al Pacino performances, as he is lost in a sea of characters, unfocused ideas and concepts in this directorial mess. Stone piles on so many ideas and concepts and then drops them in favor of more concepts about the nature of Pro-Sports, by my count about ten different movies could've been made from them, resulting in the unfocused jumbled cluster*uck of a film. The character of Coach D'Amato being the strongest element presented, if only most of these concepts were filtered through his perspective then a more fluid piece of filmmaking would have been made.
The two best sports movies ever made, in my opinion, are 2004′s "Friday Night Lights" and the 2011 documentary "Undefeated", both chronicling a High School Football team's trials and tribulations during the course of a season. They are also about the pressures of winning, team dynamics, egos and brutality of the sport, but it is all through the eyes of their respective coaches that the audience sees all of that through. Thus, there is a connection to what is happening on the field because we personally feel the pain and suffering of the teams, we care about these players just as much as their coaches do. They say that any team takes on the personality of their coaches, they can also act as a tether to a spectator trying to understand this brutal world of hard-knocks.
That "Every Inch" speech that Pacino delivers turns out to be only a glimmer of what could've been if the coach had been the focus of the movie. As the engaging coach, much like in the movie, is lost in the shuffle of a director's bloated ambition.